This fall is all about  funky trends that I am absolutely loving. When it comes to fashion, I love experimenting, stepping out of the box, and trying new things – it's all about having fun!
Here are some fab new ways to update your fall closets:
1. Heel-less Platforms
images via: tastemakermag.com
adornme.blogspot.com
The heel-less plaform is fun, sexy, edgy, and HOT! I absolutely love it! All thanks to Lady Gaga for making us all go gaga over these shoes. Lady Gaga was audacious enough to first step out in a pair. They may seem impossible to walk in, but I recently invested in a pair myself and they have proven to be quite easy, especially if you are used to strutting around in 5in heels.
Here are some great finds for less:
Leather Heel-less Peep Toe Platforms – $42
Spiked Heel-less Platforms – $68
2. Studded Pointed Pumps
Rock out this season in pointed pumps covered in studs. The spiked and studded trend isn't a complete newbie, but it definitely is making a statement this fall. It adds the right amount of edge and fierceness to your look. My favorite is a pair of pointed black pumps with gold studs/spikes all over. They are definitely my go to pair for this fall!
This is the pair I have from Steve Madden and they are on sale now! – $89.98
Studded Pumps with Ankle Straps – $99
Galactic Studded Court Heels – $120
3. Studded Leather Gloves
image via: inwonderlandandrew.blogspot.com
I've always loved gloves. A few years back I styled gloves with almost all my fall outfits. A little obsessed, I know. But now they're making a come back with a chic and edgy twist. Once again we are seeing studs take over. Studded leather gloves are the perfect accessory to your fall outfit. Not only do they keep your fingers cozy, but they always vamp up your look. Perhaps bring out our inner Michael Jacksons as well?
Here are some pocket friendly finds:
Touch Studded leather Gloves – $79.99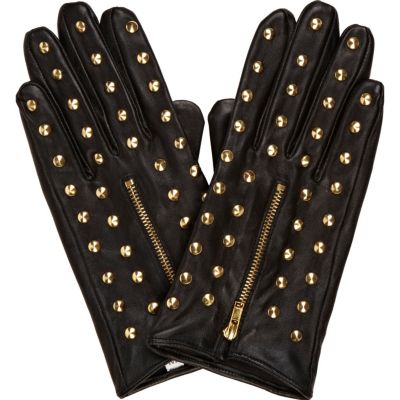 River Island Black Leather Studded Glove – $48
Leather All over Studs Glove – $61.57
4. Wedge Sneakers
images via: secretsofagoodgirl.com
I must admit, I'm really not a sneakers kind of gal. Anything with a 5in heel is my best friend. However, I am really liking the revamped sneaker – it's comfortable and casual, yet stylishly sexy with its hidden wedge heel. This fall is all about comfort combined with chicness, and what better way to update your closet than by adding this piece to it. You can pair these sneakers with skirts, skinny jeans, shorts, leggings and more! The options are endless!
Here are some great finds:
Studded Black Wedge Sneaker – $99.90 
Bowie Suede Wedge Sneakers – $195
Update your fall closets now by adding these funky pieces!
xoxo
Reneta J